Dissolved air flotation (DAF) is a water treatment process that separates liquid from solids, including oil and grease. The process involves microscopic bubbles becoming attached to solid particles causing them to float. Once the solids are afloat, they form a blanket on the surface of the liquid where skimmers are used to remove the float blanket.
At Baldwin Industrial Systems, dissolved air flotation units are available as both rectangular and circular tanks with flow rates available up to 100,000 litres per hour. As well as the choice of model (rectangular or circular) our stainless steel DAF units come with plumbing in either stainless steel (recommended) or pressure PVC.
Baldwin DAF systems have been used in food processing plants, mine site wash bays, oily water treatment plants, garment manufacturing factories and municipal rubbish and recycling plants. Dissolved air flotation units are also practical for petroleum refineries and contaminated outdoor ponds and lakes where algae and other biological solids are present.
Benefits of using a Baldwin Dissolved Air Flotation Unit: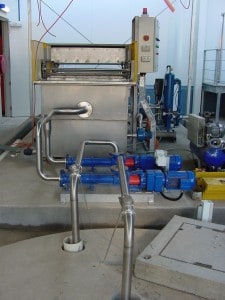 Cost effective wastewater treatment method
Wide range of solid removal including oil, grease and algae
Easy to operate with an on-skid control panel
High separation and sludge thickening efficiency
Reduced energy and chemicals consumption
All DAF systems are fabricated and assembled at the Baldwin workshop, assuring the customer that the unit will arrive at the site ready to be put into action as quickly as possible.
We also supply DAF accessories to compliment the Baldwin Dissolved Air Flotation System, which include:
Coalescing plate separators
Preparation tank skid – coagulation and / or pH adjustment
Flocculation tubes – stainless steel or pressure PVC
Flocculation tanks
Pre-treatment / post-treatment pH control systems
Dosing packages – polymer, coagulant
Air compressors
DAF feed and filtrate pumps
Sludge pumps
Post-treatment filtration systems
Post-treatment monitoring equipment (conductivity, suspended solids, oil and grease).
Baldwin's DAF systems can be used in conjunction with existing DAF chemicals sourced from external providers.
For more information on Dissolved Air Flotation Systems, DAF accessories or chemicals, call us today on 02 4954 0440.