Baldwin Industrial Systems specialise in the design, manufacture, installation and service of industrial wastewater systems and process equipment.
We offer a range of products including:
Process Systems – Modular skid mounted systems, completely pre-assembled allowing factory testing prior to installation on site. Save time, save money, faster installation, greater productivity. Involvement at the design stage or we will build to your design.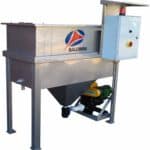 Oil Water Separators – Coalescing Plate Separators /Oily water separators  are efficient and proven at removing oil and grease from water, as well as suspended solids. Custom designed, skid mounted, all flow rates and in-ground plate packs available also.
Dissolved Air Flotation – Skid mounted DAF units available in all sizes, with any options that are required to treat your wastewater.
Speciality Chemical Treatment RM-10 – A one step process for difficult to treat industrial wastewater. Equipment is PLC controlled, stainless steel fabrication, requiring minimal operator involvement.
Belt & Tube Oil Skimmers – As the Australian distributor for Abanaki Oil Skimmers anywhere there is an oil layer Abanaki will have a suitable product to remove it.
Floating Skimmers & Decanters – Baldwin distribute SkimPak Floating Oil Skimmers and Decanters, and providing local manufacturing for these.
Clarifiers – Stainless Steel or mild steel for solids settling applications.
Filtration & Polishing Media – Multimedia filtration, hydrocarbon polishing media, skid mounted systems or systems following other water treatment, Baldwin are able to provide any customisation that is required.
pH & Dosing Systems – As part of a larger treatment system or as a stand-alone skid, pH and other chemical dosing can be designed and manufactured to meet customers requirements.
Custom Fabrication – Baldwin have a 2300 m2 workshop with all facilities for any custom fabrication in stainless steel, aluminium or mild steel.
Control Panels – Process and equipment control is a core component of our business offering for the last 25 years. Custom design is a speciality.
Pumps – Baldwin use and can supply most styles of pumps and regularly integrate them into custom skids and systems for our customers.